The drought has ceased, a chapter has been released! Heeeeere's chapter 531!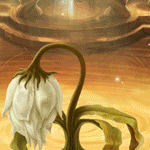 Once again, reasons for the sporadic PGC updates can be found in
this post.
In the meantime, why not treat yourself to a completed gem of a novel with translator Grace's
Supernatural Girlfriend?
It's short and sweet at only 153 chapters, but full of fun capers (and not
that
scary ghosts). Read the translator's
parting words here
, or jump straight to SG's
Table of Contents
!
In the meantime, your resident PGC and UPX translator will be busying herself as usual before vacay time hits, ah~